energetic belly massage course
Become a professional Energetic Belly Massage therapist and learn to share the gift of abdominal massage with your clients and loved ones.
8, 15, 22, 29 October, 5 November 2023
SOLD OUT
create space and release tension
Energetic Belly Massages are truly a gift you can give to your clients and loved ones. They work on so many levels; physical, emotional and spiritual. They are based on Chi Nei Tsang, a Toaist abdominal detox massage. With these massages you create space in the belly and pelvis, you clean toxins and release emotion and trauma. You massage the internal organs to make everything flow better, to release blockages and to relax the tissue. This method is suitable for anyone who would like to experience an improved level of health, both on a physical and an emotional level.
 
Most digestive disorders benefit from this abdominal massage, and improvements in reproductive and sexual health are often experienced. Such as in the field of infertility, menstrual problems, PMS, PCOS, endometriosis and menopause. 
Chi Nei Tsang stimulates the internal organs to work more efficiently and helps correct postural problems arising from imbalance in the abdominal area. Deep-seated tensions are released and vitality is restored.
Most of my clients come to me with pain and/or issues with their intestine, digestion, menstrual cycle, hormonal issues (menopause), PCOS and endometriosis. They also come because they are craving a deeper connection to their body, pelvis and womb space or are looking for way to deeply relax.
Although the massage mainly focuses on the abdomen, the massage affects the entire body, including lymphatic, digestive, respiratory, and reproductive systems, as well as the nervous system and immune system. 
Chi Nei Tsang can help with:
– Digestion problems, bowel problems, bloating, constipation, irritable bowel
– Upset stomach, heartburn, regurgitation, rumbling stomach
– Unprocessed emotions, difficulty expressing emotions appropriately
– Asthma, tense diaphragm, inability to breathe deeply
– Relieving the consequences of emotional & work-related stress (depression, anxiety, sadness, trauma)
– Fatigue, exhaustion, listlessness, trouble sleeping
– Hormonal complaints, frequent urination
– Menstrual complaints, fertility problems, menopausal complaints
– Back complaints, shoulder complaints, neck complaints, headaches
– Pain in arms, hands, fingers
– Problems related to psoas muscle
– Pain in legs, knees, calves, ankles, feet
The abdominal massage is mainly performed on the abdomen, with oil, in conjunction with breathing. After the treatment some work is done on the rest of the body to ensure that the energy released from the abdomen is not stored and leaves the body.
It's a great addition if you are already doing bodywork, but you can also learn this to massage yourself and your loved ones.
This course is designed to teach you the art of a 60-90 minute belly massage, taking you on a journey through various organs including the bladder, reproductive organs, intestines, liver, gallbladder, kidneys, stomach, triple heater, spleen, and lungs. We will also address the psoas muscle and during the massage, you will learn how to work with the lymphatic system, immune system, and nervous system to make the massage supportive for everyone's health.
Not only will you learn the techniques of the massage, but also about contraindications and how the massage can help promote healthy energy in the body by opening the wind gates and releasing sick winds that may be the root of various physical complaints, emotional imbalances, and mental overactivity.
"learn to start each day by smiling inwardly to your vital organs and thanking them for sustaining your life" – mantak chia
Energetic belly massage course

The Energetic Belly Massage Course will be held in a small group of only 2 participants, making sure you get enough attention and focus to really learn this beautiful massage. The course days include specific meditations, practices and yoga nidra to help energetically and to improve your learning. Focus on sharing this massage from your own belly/pelvis and heart.
It will be 5 days; each day 10:00-17:00 (with 1 hour lunch around 13:00).
Combining part 1 & 2 in 5 weeks, one day a week with plenty of time in between to practice on your own and make this massage your own, allowing time for integration and deep process.
Sunday 8, 15, 22, 29 October, 5 November 2023
SOLD OUT
5 days total 10:00-17:00
Investment €925 (ex 21% BTW) / 2x €470,77 (ex 21% BTW) / 3x €316,60 (ex 21% BTW)
Location: Den Haag/Rijswijk (exact location tbd)
course will be in English/Dutch depending on the participants
Semi Private 2 participants

• incl a workbook with all the steps written out plus a diagram to work with
• incl recordings of the meditations to use at home
• tools to take care of your own energy
• videos of the entire massage to watch back at home
• incl meditation script to open the massage
• with small snacks & drinks (but no big meals, because you'll be practicing on each other so best if the belly is empty)
• with a bottle of my own homemade mix of oil
• incl a pdf version of the Chi Nei Tsang book
• a certificate of completion
• a little surprise
I'm Steffi Von Brunner and from my own experience I know how important it is to have space in your body, mind and soul. After several burn-out periods in my life and living with chronic pain in my pelvis I know how it is when there's no space and only tension and pain.
Through my own experience and many years of research, trainings, courses and books I now help other women and persons born with a uterus to create space in their body, mind and spirit. I use many different practices to keep myself happy and healthy and share these with you to get the same results.
When I had 2 amazing ladies from Belgium ask me if I could teach them my belly massage I had to think about it for a bit, but I'm glad I that I did it. It turned out to be something I absolutely love to do. Sharing this technique is amazing and seeing all the happy clients that are now receiving this massage by my student is so great. I'm grateful for the trust of Mirte and Valerie, thank you!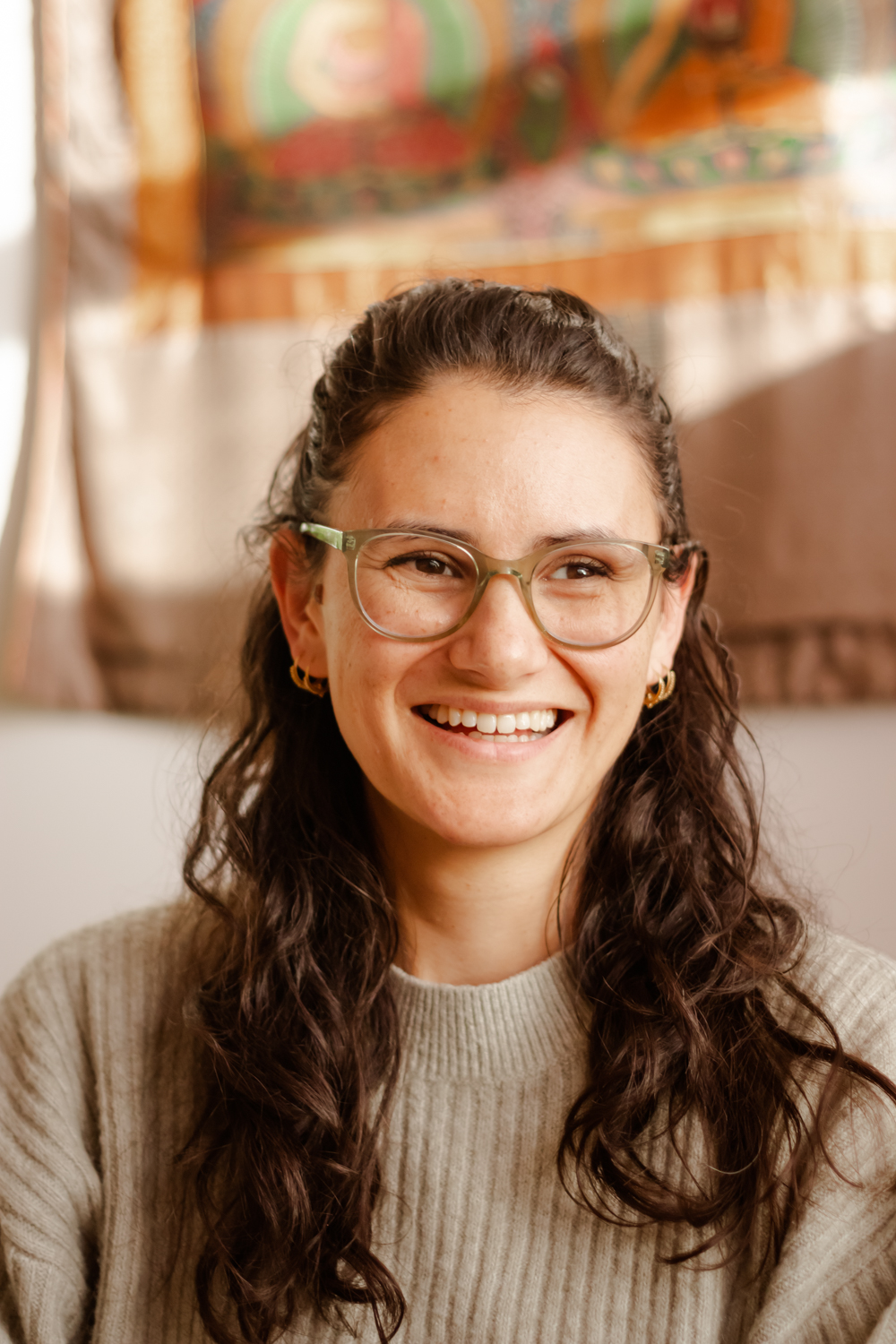 "I am very satisfied with the (private) Chi Nei Tsang 1 course that I followed with Steffi. Ample attention to every aspect of the massage. She knows how to convey her enthusiasm completely, so that I could immediately get started with (practice) sessions at home. I think the massage is great to give, from start to finish, you feel that tensions being released and there is much more space in the abdomen. Soon I will follow part 2!" – Babette
"It was my colleague Mirte who took me to The Hague to learn the abdominal massage from Steffi. I had no idea whether it would be something for me; I myself left this zone to the side a bit in my massages. In retrospect, SO wrong! !
Thanks to the Chi Nei Tsang I can work more energetically and achieve incredible results with my clients. I loved how Steffi approaches the course – based on her passion for pelvis and abdomen. In addition to teaching the massage, she also focuses on connecting with yourself. Which is super important when you get started with this massage.
What a valuable addition to my offer! Recommended!" – Valerie
Wat een groot cadeau dat Steffi ons (mijn zus en ik volgden cursus samen) gaf toen ze ons de Chi Nei Tsang massage aanleerde. Op onze beurt kunnen wij nu ook -als massagetherapeut en ostepate- andere vrouwen laten genieten van deze heilzame behandeling. Steffi weet waarover ze praat, heeft veel liefde voor lijven en kan de technieken prima overbrengen. Dank je wel, Steffi! Deze massage maakt de wereld mooier ❤️ – Lentel