yoga teacher and holistic belly massage practitioner specialized in the female pelvis
I know how important it is to make space within your body
IMy name is Steffi Von Brunner, and I know from personal experience how important it is to have space in your body, mind, and soul. After suffering from several burnouts and living with chronic pain in my pelvis, I understand how it feels to have no space, only tension, and pain.
Through years of research, training, courses, and books, I have developed a knowledge of many different practices to help create space in the body, mind, and spirit. I specialize in helping women and people born with a uterus to achieve this goal.
Yoga was my starting point. I began practicing when I was 14 years old, but it wasn't until I pursued my Masters in Architecture that yoga became a significant part of my life. After completing my degree, I traveled to Bali to do a yoga teacher training to deepen my practice. Upon my return, I began teaching yoga and quickly fell in love with it. I gradually added more classes to my schedule until I had to make a choice between yoga and my job as a chef at a daycare facility. I chose my love for yoga, which led me to advanced teacher training and eventually to the pelvis.
My interest in the female pelvis led me to explore other practices besides pelvic yoga. I trained with a pelvic physiotherapist, Isa Herrera, and began studying Chi Nei Tsang therapy with Zendrik van der Merwe, which led me to do more bodywork: I completed a Reiki course with Lisa Powers, Living Lightly Massage with Iza Wijffels and Pelvic Massage with Janneke Robers & Richelle van Gerwen. Combining these different practices has given me a comprehensive understanding of pelvic health and how to help people with pelvic issues.
My mission is to empower women to take back their pelvic power and health.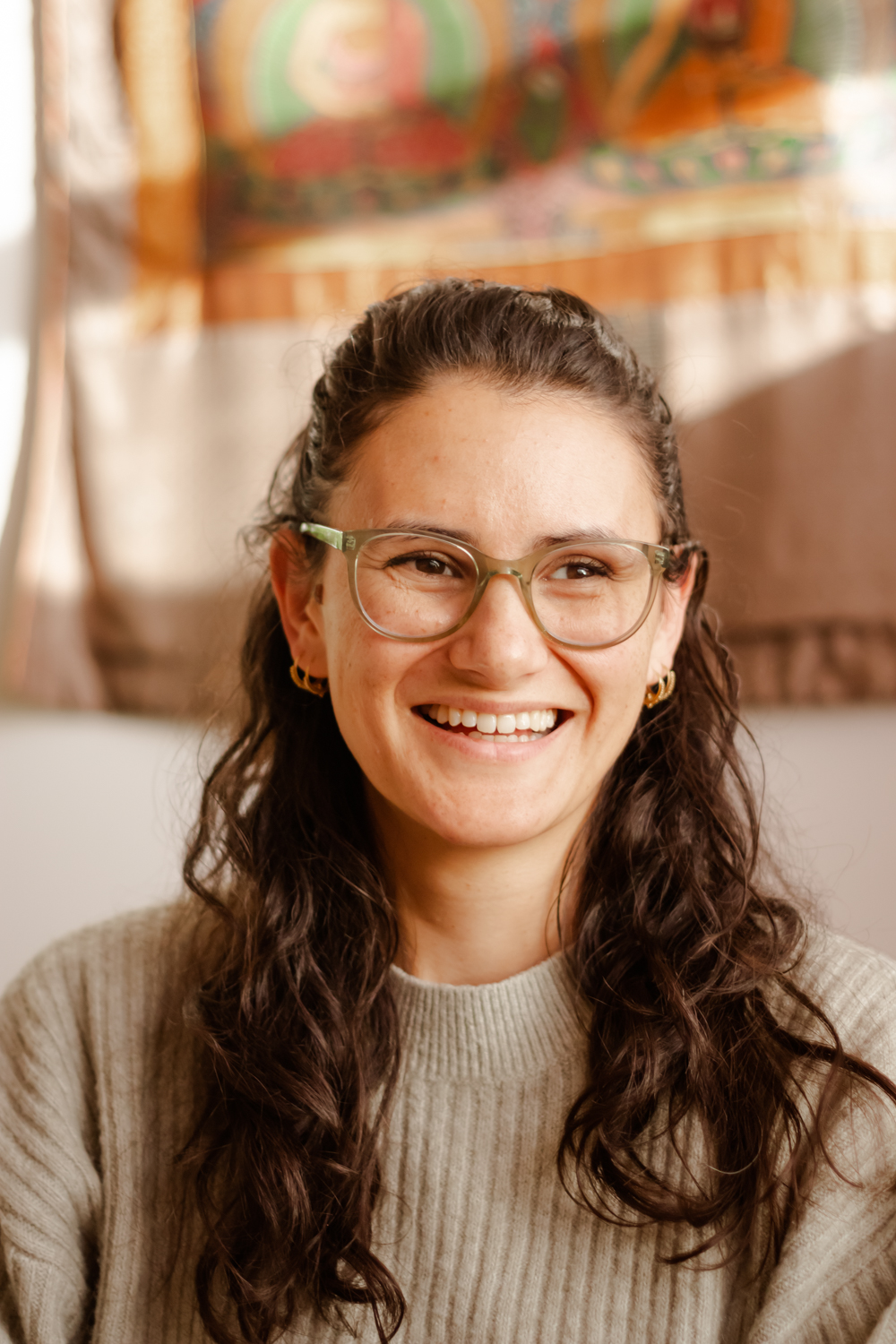 Trainings & Courses
Frog Lotus Yoga – RYT 200 hr Vinyasa Flow – 2014
Sadie Nardini – Core Strength Vinyasa Trained – 2016
Yoga Moves – RYT 300 hr Advanced Your Yoga – 2016-2017
Coral Brown – Mandala of Asana Shive Rea – 2017
Leslie Howard – Yoga for Pelvic Health – 2017
Alison Melvin – Yin Yoga and Energy – 2018
Isa Herrera – Female Pelvic Floor Training – 2018
Zendrik V/D Merwe – Chi Nei Tsang Therapist Training – 2019
Eliane Bernhard – Deeprelax Yoga Nidra Teacher Training – 2019
Lisa Powers – Reiki Level I, II, Master – 2020
Leslie Howard – Pelvic Floor Yoga Teacher Training – 2020-2021
Kimberly Johnson – Activate Your Inner Jaguar (somatics and the nervous system) – 2021
Universiteit Leiden & Leiden University Medical Center – Anatomy of the Abdomen and Pelvis; a journey from basis to clinic – 2021-2022
Kimberly Johnson – Activate Your Inner Jaguar (somatics, relationships and the nervous system) – 2022
Iza Wijffels – Living Lightly Massage Training – 2022
Janneke Robers & Richelle van Gerwen – Pelvic Massage – 2023
Therapeutisch Opleidingscentrum Kersten – Chinese Head-, Neck- and Shoulder Massage – 2023

Free 60 minute yoga class
focused on the hips, pelvis and lower back
30 minutes of flow followed by 30 minutes of yin yoga