bodyworker, yoga teacher and pelvic embodiment coach specialized in the female pelvis
I know how important it is to make space within your body
IMy name is Steffi Von Brunner, and I know from personal experience how important it is to have space in your body, mind, and soul. After suffering from several burnouts and living with chronic pain in my pelvis, I understand how it feels to have no space, only tension, and pain.
Through years of research, training, courses, and books, I have developed a knowledge of many different practices to help create space in the body, mind, and spirit. I specialize in helping women and people born with a uterus to achieve this goal.
Yoga was my starting point. I began practicing when I was 14 years old, but it wasn't until I pursued my Masters in Architecture that yoga became a significant part of my life. After completing my degree, I traveled to Bali to do a yoga teacher training to deepen my practice. Upon my return, I began teaching yoga and quickly fell in love with it. I gradually added more classes to my schedule until I had to make a choice between yoga and my job as a chef at a daycare facility. I chose my love for yoga, which led me to advanced teacher training and eventually to the pelvis.
My interest in the female pelvis led me to explore other practices besides pelvic yoga. I trained with a pelvic physiotherapist, Isa Herrera, and began studying Chi Nei Tsang therapy with Zendrik van der Merwe, which led me to do more bodywork: I completed a Reiki course with Lisa Powers, Living Lightly Massage with Iza Wijffels and Pelvic Massage with Janneke Robers & Richelle van Gerwen. Combining these different practices has given me a comprehensive understanding of pelvic health and how to help people with pelvic issues.
My mission is to empower women to take back their pelvic power and health.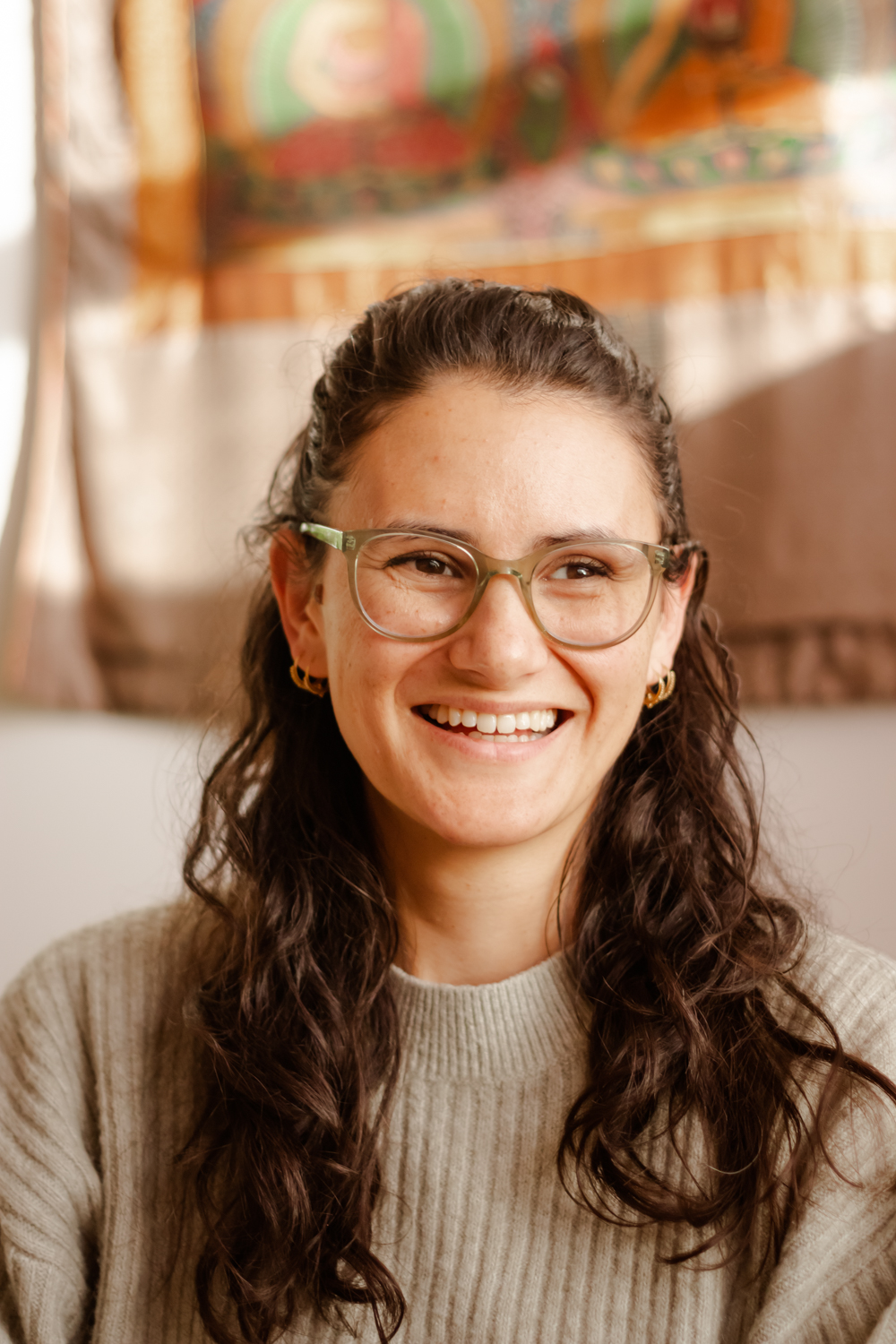 Trainings & Courses
Frog Lotus Yoga – RYT 200 hr Vinyasa Flow – 2014
Sadie Nardini – Core Strength Vinyasa Trained – 2016
Yoga Moves – RYT 300 hr Advanced Your Yoga – 2016-2017
Coral Brown – Mandala of Asana Shive Rea – 2017
Leslie Howard – Yoga for Pelvic Health – 2017
Alison Melvin – Yin Yoga and Energy – 2018
Isa Herrera – Female Pelvic Floor Training – 2018
Zendrik V/D Merwe – Chi Nei Tsang Therapist Training – 2019
Eliane Bernhard – Deeprelax Yoga Nidra Teacher Training – 2019
Lisa Powers – Reiki Level I, II, Master – 2020
Leslie Howard – Pelvic Floor Yoga Teacher Training – 2020-2021
Kimberly Johnson – Activate Your Inner Jaguar (somatics and the nervous system) – 2021
Universiteit Leiden & Leiden University Medical Center – Anatomy of the Abdomen and Pelvis; a journey from basis to clinic – 2021-2022
Kimberly Johnson – Activate Your Inner Jaguar (somatics, relationships and the nervous system) – 2022
Iza Wijffels – Living Lightly Massage Training – 2022
Janneke Robers & Richelle van Gerwen – Pelvic Massage – 2023
Therapeutisch Opleidingscentrum Kersten – Chinese Head-, Neck- and Shoulder Massage – 2023

Free 60 minute yoga class
focused on the hips, pelvis and lower back
30 minutes of flow followed by 30 minutes of yin yoga
Ik heb een bekkenmassage ontvangen van Steffi. Van tevoren had ik geen idee wat ik kon verwachten. Hoe kun je nu een bekken masseren? Maar door je met aandacht in allerlei yoga houdingen te leggen die het bekken oprekken en stimuleren laat Steffi heel veel gebeuren in dit gebied. Het is heerlijk om je helemaal over te geven aan haar en het te laten gebeuren. Overgeven aan de vrouwelijke flow. Naast de massage past ze ook energiewerk toe, waardoor ik me nog extra goed kon ontspannen en echt in een andere 'state of mind' terecht kwam. Deze massage is een aanrader voor mensen met onderrug klachten en voor vrouwen die hun gezonde vrouwelijke energie tot wasdom willen laten komen.
I have been working with Steffi for almost 2 years now and can only recommend her. Suffering from perimenopause, the anxiety and self-doubt which comes at this stage in life, she has been fundamental in my acceptance and healing process. I feel much better today and mostly due to our treatment sessions. Steffi is always present, is a true listener and an avid learner. She is always studying new things to bring to the practice and help her patients. I am always amazed by her knowledge and love for the pelvis and her willingness to sooth every patient. Thank you, Steffi, for this wonderful journey.
Ontspannen en hele fijne ervaring. Het voelde compleet. Het voetenbad, de thee, snacks, het bewust landen in mijn lichaam, de temperatuur. Heerlijk. Ik kom zeker terug.
Steffi is a wonderful spaceholder who works holistically and embodies the work she teaches. Creating the space for you to sink deep into your pelvis and body.
I had the most caring, nurturing thai belly massage last week from Steffi. In a time where I felt that I needed to be consoled, Steffi's touch and caring energy invited me to be vulnerable and open. Having held so much pain and sorry within my womb space, Steffi's warm gentle hands moved around my pelvis and cradled me like I have never felt before. It was a wonderful, cathartic experience which allowed me to open up the flood gates and give into the deepest sorrow, which I thought I had already dealt with. I realize that there is still some healing to do and I would absolutely come back and see Steffi again. Audrey
Audrey Dickinson
2023-02-09
Highly recommend Steffi her Energetical belly massage. 1,5 hours of being touched on an area that hold so much, has been really profound. After our session I felt so open, exposed (in a beautiful loving way) and free. She offers a truly safe space for you to come back home to yourself. The clinic space is beautiful and I can't wait for a future session with her (:
Living Lightly
2023-01-19
Regelmatig kom ik bij Steffi voor een energetische buikmassage en recent heb ik een REST & RESTORE session geboekt. Dit is mij ook erg goed bevallen. Steffi is professioneel, luistert goed en denkt mee. Daarnaast heeft ze een zachte, vriendelijke en begripvolle persoonlijkheid. Ik raad haar zeker aan.
Experiencing the Rebalancing Massage with Steffi is a profound and unique experience. Her generous care and feel for what is needed by the whole organism (mind, body, spirit) to find back its balance is deeply healing. I wholeheartdly recommed it!
De massage is heerlijk en compleet, ik voel me altijd zo ontspannen dat ik bijna in slaap val. Als de massage is afgelopen voel ik me heel energiek!
Hele fijne setting en een heerlijke massage. Zeker aan te raden om los te komen, letterlijk en figuurlijk.
carmen zuidgeest
2022-10-06