On demand yoga bundle to help you create space and awareness in the pelvis and relieve pain and tension
Includes 4x 75 min yogaclasses plus 2 bonus videos
Investment €79
Create space, opening and flow
Are you looking a way to move your body and at the same time create space in your pelvis?
Are you dealing with a tight (hypertonic) pelvic floor and/or pelvic pain?
Do you want to find a way to bring awareness, aliveness and feeling back into your pelvis?
Do you want to connect to your body and your pelvis?
I've got you!!
Join me for this pelvic yoga video bundle to create space and awareness in your pelvis and less pain and tension!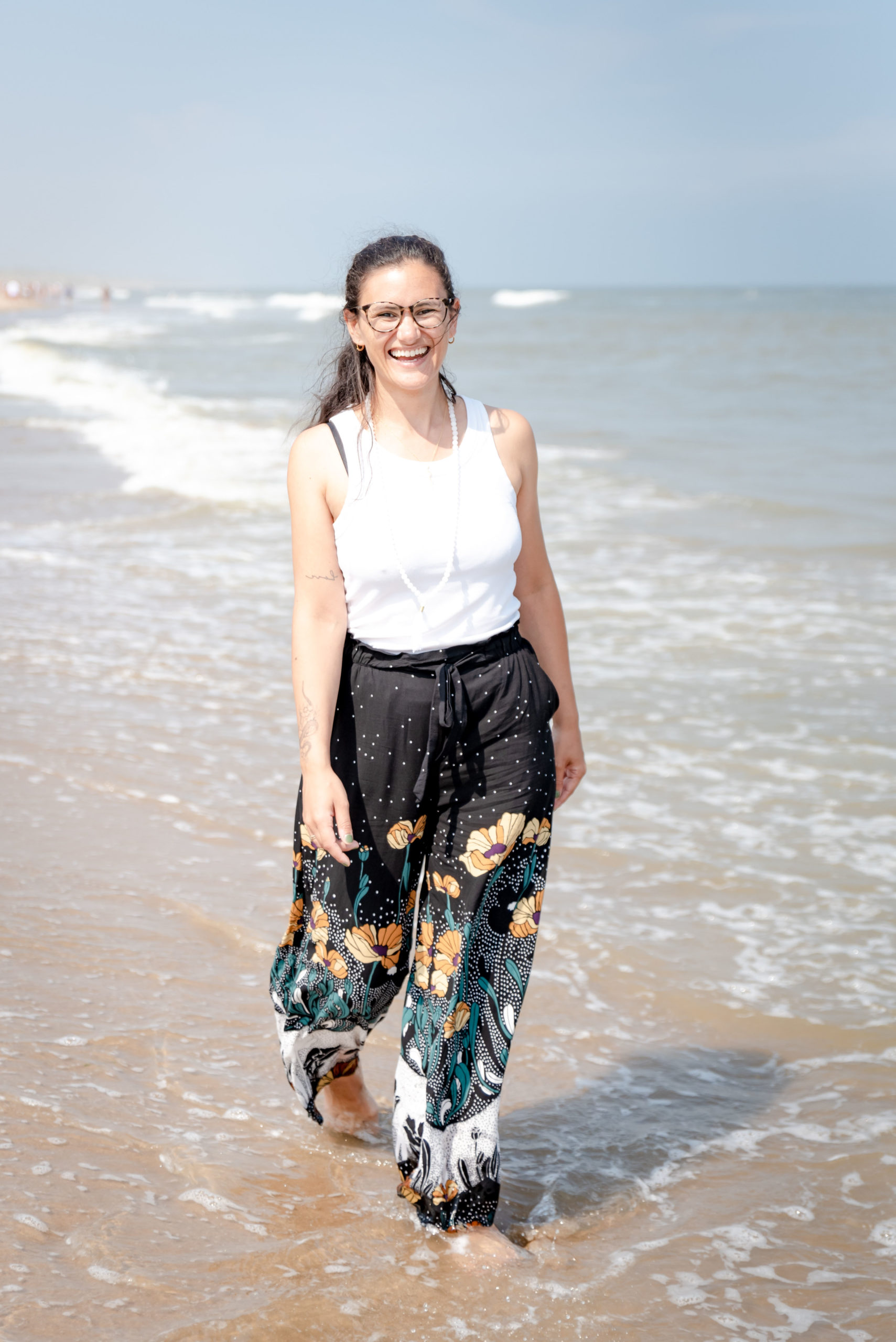 Hi, I'm Steffi and I will be your pelvic yoga teacher and guide.
I've created this pelvic yoga series for you because I can totally relate to you and know how difficult it can be to live with a hypertonic pelvic floor and pelvic pain. Yoga and specific yoga for the pelvis has given me so much space, awareness and release that I'm happy to be sharing that with you. I want you to feel that too!
 About 8/9 years ago I started to experience painful penetration which developed into a hypertonic (overly tight) pelvic floor and pain in and around my pelvis. 
On my journey to create space and ease pain yoga has been my go to tool. During one of my advanced teacher trainings I researched how yoga could help with painful sex. What I found is that yoga could definitely help to create space and release the muscles that are giving you pain in your pelvic floor and surrounding muscles. 
Yoga helps you to bring awareness in your body and in your pelvic floor, you'll learn ways to stretch, lengthen and soften but also how to stabilise and strengthen. We need both actions in a healthy and happy pelvis. 
Here's what's included in this video bundle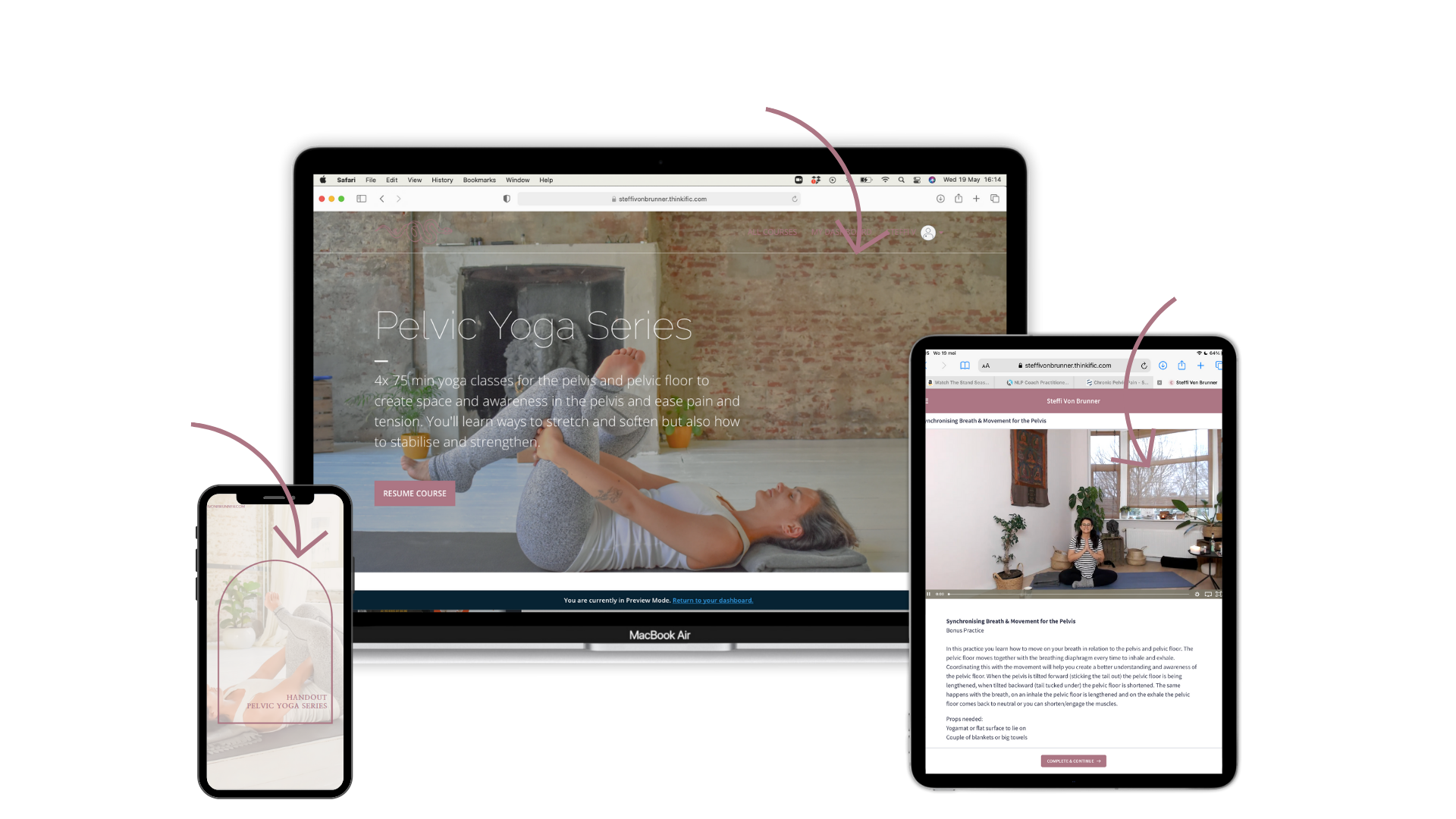 Video One
The focus will be on bringing your awareness down into your pelvis and pelvic floor and getting acquainted with this special part of your body. Gentle movements of the pelvis, breathing into the pelvis and soft stretches.
Video Two
Working with the pelvic floor muscles and surrounding muscles. Creating space in the pelvis by gently stretching and lengthening these muscles, including inner thighs, outer thighs, hamstrings, psoas muscle and the pelvic floor muscles.
Video Three
Going deeper into the psoas muscles. The psoas is connected to our fight/flight/freeze reaction, just like the pelvic floor muscles. They are part of the core together with the pelvic floor muscles, abdominal muscles, back muscles and gluteus. 
Video Four
Because a tight pelvic floor is not a strong pelvic floor we'll work in this final class on core strength & stability. Working mainly with the core muscles and dive a bit deeper into the butt muscles. 
Each video will have a different theme with specific yoga postures, movement, breathwork and meditations to help you to sink into your body and pelvis
VIDEO 1 • Creating Awareness
VIDEO 2 • Creating Space
VIDEO 3 • Psoas Release
VIDEO 4 • Strength & Stability 
Each yoga class is 75 minutes and comes with a playlist if you like music with your yoga. The handout with basic pelvic anatomy also contains drawings of the 4 classes.
The yoga is accessible for every level and you don't need any previous experience with yoga.
BONUS:
15 min video Synchronising Breath & Movement for the Pelvis
15 min recording Pelvic Space Meditation 
That was such a great class. In the beginning there was still some tension in my belly, but at one point something happened and my belly started to feel very spacious. 
It was a beautiful practice. It really created REAL awareness in my pelvic floor. So special to notice.
Thank you very much. It was really a great experience. It felt really good!
For the first time in months I didn't have pain during sex. Breathing deep to my belly, doing some of the poses and letting go of expectations. I'm super grateful!
• 4x 75 min Pelvic Yoga Classes
• Curated playlists for each class
• Handout with Basic Pelvic Anatomy
BONUS:
• 15 min video Synchronising Breath & Movement for the Pelvis• 15 min recording Pelvic Space Meditation
lifetime access to all the content
79,-  
Steffi donates 2% of every sold pelvic yoga series to Free a Girl, an organisation that rescues minor girls from sexual exploitation.
FREQUENTLY ASKED QUESTIONS
WHAT IS INCLUDED?
4x 75 min yoga videos with suggested playlists, handout PDF and as a bonus 15 min synchronising breath & movement and a 15 min pelvic space meditation. 
WHAT IS THE DIFFERENCE BETWEEN THIS SERIES AND THE WORKSHOP 'YOGA & THE PELVIC FLOOR'?
In this series you'll get 4 full length yoga classes to help you go deeper into the pelvis, the workshop is a beautiful first encounter with the pelvic floor and goes deeper into issues with the pelvic floor and the anatomy. 
WHAT IS THE DIFFERENCE BETWEEN THIS SERIES AND THE COURSE 'AWAKEN YOUR PELVIS'?
In the course 'Awaken Your Pelvis' you really dive deep into your own pelvis and learn all different tools, including yoga, to help create space, awareness and reduce pain in the pelvis. This course includes weekly yogaclasses with Q&A sessions. In this series you'll only explore the pelvis via yoga, breath and meditation. It's like a regular yoga class but then focused on the tight pelvic floor. 
I DON'T HAVE ANY PELVIC ISSUES OR PAIN, CAN I STILL JOIN THIS YOGA SERIES?
Yes, the focus of this yoga series is on relaxing, releasing and letting go and I believe that's something every woman could use. This yoga series will help you bring you closer to your pelvis space, helping you root and ground into your body. 
I HAVE A HYPOTONIC (TOO LOOSE) PELVIC FLOOR AND EXPERIENCE ORGAN PROLAPSE AND/OR STRESS INCONTINENCE, IS THIS YOGA SERIES FOR ME?
Yes and no. The focus of this yoga series is more on an overly tight pelvic floor and we don't focus that much on strengthening the pelvic floor, although we do some work on stabilising (and strengthening) the pelvis and core in the last week. This series will help you create a better awareness of your pelvis, but there won't be specific exercises for the hypotonic pelvic floor. If you do have prolapse and/or stress incontinence plus experience pain in your pelvis this will be a good series for you, since you first need to address the pain before strengthening the pelvic floor.
WHAT IS YOUR REFUND POLICY?
There are no refunds and all sales are final. I trust that you make a well-considered choice when you make a purchase.
I HAVE A QUESTION THAT ISN'T ADDRESSED 
You can reach me via email: hello@steffivonbrunner.com
disclaimer: if you have serious issues and/or pain in your pelvis, always see a doctor or physical therapist first