Welcome, I'm Steffi von Brunner
Bodyworker, yoga teacher and pelvic embodiment coach specialized in the female pelvis

Tell me it isn't magic, the way you heal yourself? – pavana reddy
I help women with a tight pelvis and pelvic floor to create space and awareness and relieve pain and tension via yoga, bodywork (belly, pelvic and full body massage) and pelvic health coaching. You can work with me via one-on-one sessions or (online) group classes, courses and programs. My practice is located at SoZa – Anna van Hannoverstraat 4 Den Haag, where I work on Tuesday afternoon, Thursday and Friday full day and sometimes a weekend day.
Pelvic Massage
Combining (yoga) stretches with deep massage, acupressure and mindfulness to open up space in the muscles, joints and energy lines of the pelvis and body. Helping you deeply connect to your body, pelvis and feminine/yin energy.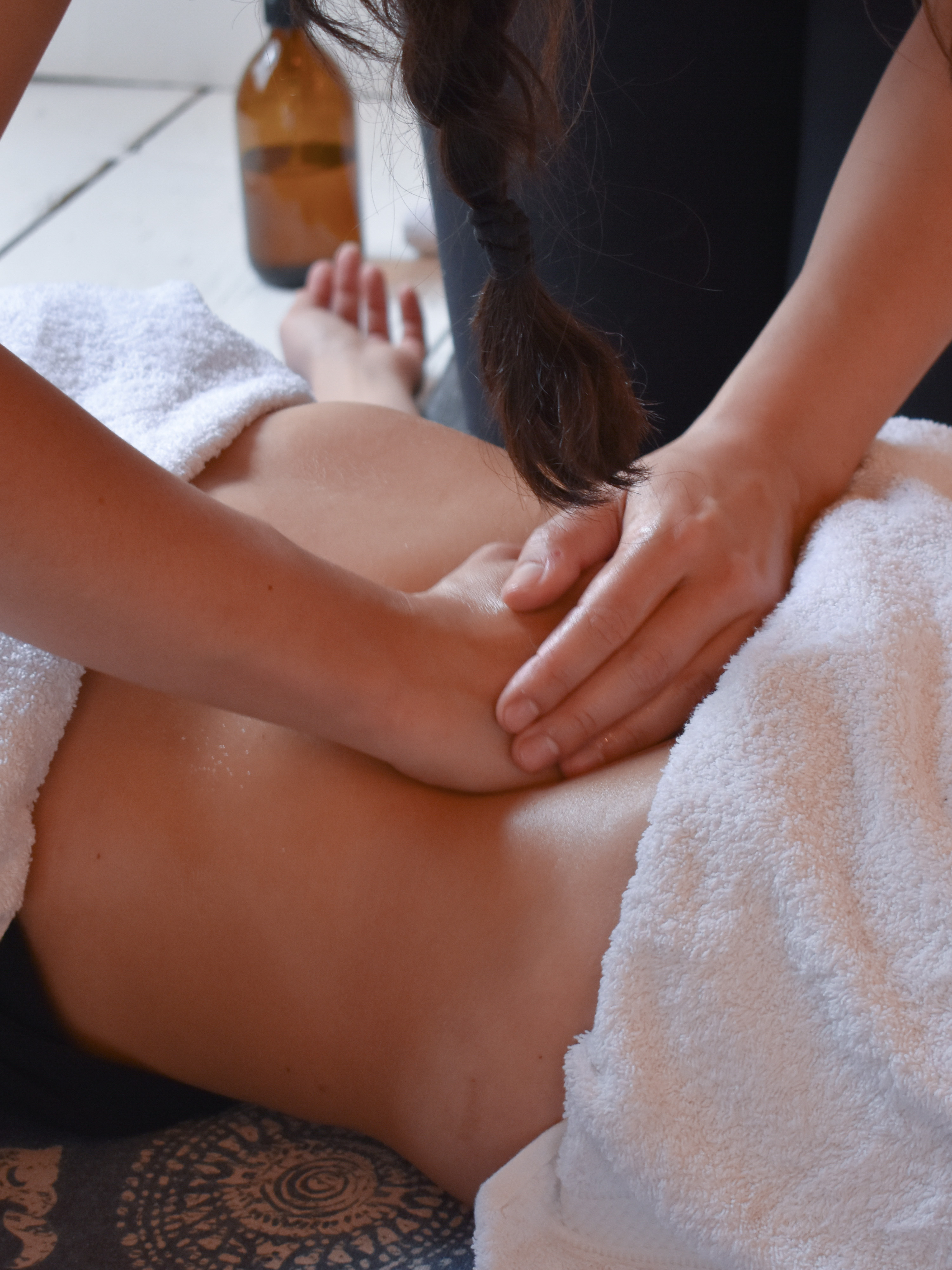 Chi Nei Tsang

A deep, energetic massage of the abdomen and the internal organs to make everything flow better, to release blockages and to relax the tissue.

Pelvic Health & Embodiment Coaching
Work with me one-on-one on your specific pelvic issues, like a tight pelvic floor, painful sex or not feeling connected to your body/pelvis and femininity. Via
pelvic yoga therapy, bodywork and lifestyle coaching we go to the root of your issues so you can start to bring your awareness back to your pelvis to create a life filled with joy and pleasure.
Heerlijke buikmassage ontvangen bij Steffi! Echt genieten!
Ik heb een bekkenmassage ontvangen van Steffi. Van tevoren had ik geen idee wat ik kon verwachten. Hoe kun je nu een bekken masseren? Maar door je met aandacht in allerlei yoga houdingen te leggen die het bekken oprekken en stimuleren laat Steffi heel veel gebeuren in dit gebied. Het is heerlijk om je helemaal over te geven aan haar en het te laten gebeuren. Overgeven aan de vrouwelijke flow. Naast de massage past ze ook energiewerk toe, waardoor ik me nog extra goed kon ontspannen en echt in een andere 'state of mind' terecht kwam. Deze massage is een aanrader voor mensen met onderrug klachten en voor vrouwen die hun gezonde vrouwelijke energie tot wasdom willen laten komen.
I have been working with Steffi for almost 2 years now and can only recommend her. Suffering from perimenopause, the anxiety and self-doubt which comes at this stage in life, she has been fundamental in my acceptance and healing process. I feel much better today and mostly due to our treatment sessions. Steffi is always present, is a true listener and an avid learner. She is always studying new things to bring to the practice and help her patients. I am always amazed by her knowledge and love for the pelvis and her willingness to sooth every patient. Thank you, Steffi, for this wonderful journey.
Ontspannen en hele fijne ervaring. Het voelde compleet. Het voetenbad, de thee, snacks, het bewust landen in mijn lichaam, de temperatuur. Heerlijk. Ik kom zeker terug.
Steffi is a wonderful spaceholder who works holistically and embodies the work she teaches. Creating the space for you to sink deep into your pelvis and body.
I had the most caring, nurturing thai belly massage last week from Steffi. In a time where I felt that I needed to be consoled, Steffi's touch and caring energy invited me to be vulnerable and open. Having held so much pain and sorry within my womb space, Steffi's warm gentle hands moved around my pelvis and cradled me like I have never felt before. It was a wonderful, cathartic experience which allowed me to open up the flood gates and give into the deepest sorrow, which I thought I had already dealt with. I realize that there is still some healing to do and I would absolutely come back and see Steffi again. Audrey
Audrey Dickinson
2023-02-09
Highly recommend Steffi her Energetical belly massage. 1,5 hours of being touched on an area that hold so much, has been really profound. After our session I felt so open, exposed (in a beautiful loving way) and free. She offers a truly safe space for you to come back home to yourself. The clinic space is beautiful and I can't wait for a future session with her (:
Living Lightly
2023-01-19
Regelmatig kom ik bij Steffi voor een energetische buikmassage en recent heb ik een REST & RESTORE session geboekt. Dit is mij ook erg goed bevallen. Steffi is professioneel, luistert goed en denkt mee. Daarnaast heeft ze een zachte, vriendelijke en begripvolle persoonlijkheid. Ik raad haar zeker aan.
Experiencing the Rebalancing Massage with Steffi is a profound and unique experience. Her generous care and feel for what is needed by the whole organism (mind, body, spirit) to find back its balance is deeply healing. I wholeheartdly recommed it!
Womb Healing & Pelvic Awakening Workshop
This workshop is designed to help you estabalish a strong foundation within yourself, nurturing your root and awakening your innate power. It's an opportunity to connect with your authentic self, release what no longer serves you, and step into your radiant potential.