6 week online course for women with a tight pelvic floor who are looking for more space and awareness, less pain and tension within their bodies.
Start whenever you want €155 
Your pelvis is the root of
your health

 
Are you looking for less pain, more space and/or more awareness in your pelvis?
Do you experience pain during sex or when using tampons/cups?
Does your pelvis, hips and lower back feel tight and stiff?
Do you experience stress and/or trauma in your pelvis?
Are you dealing with menstrual and/or hormonal imbalances like PMS, PCOS or endometriosis?
Are you familiar with bloating and/or irritable bowel syndrome?
I've got you!!
With "Awaken Your Pelvis" you've got a 6 week course to bring you back into your pelvis, create space and reduce pain.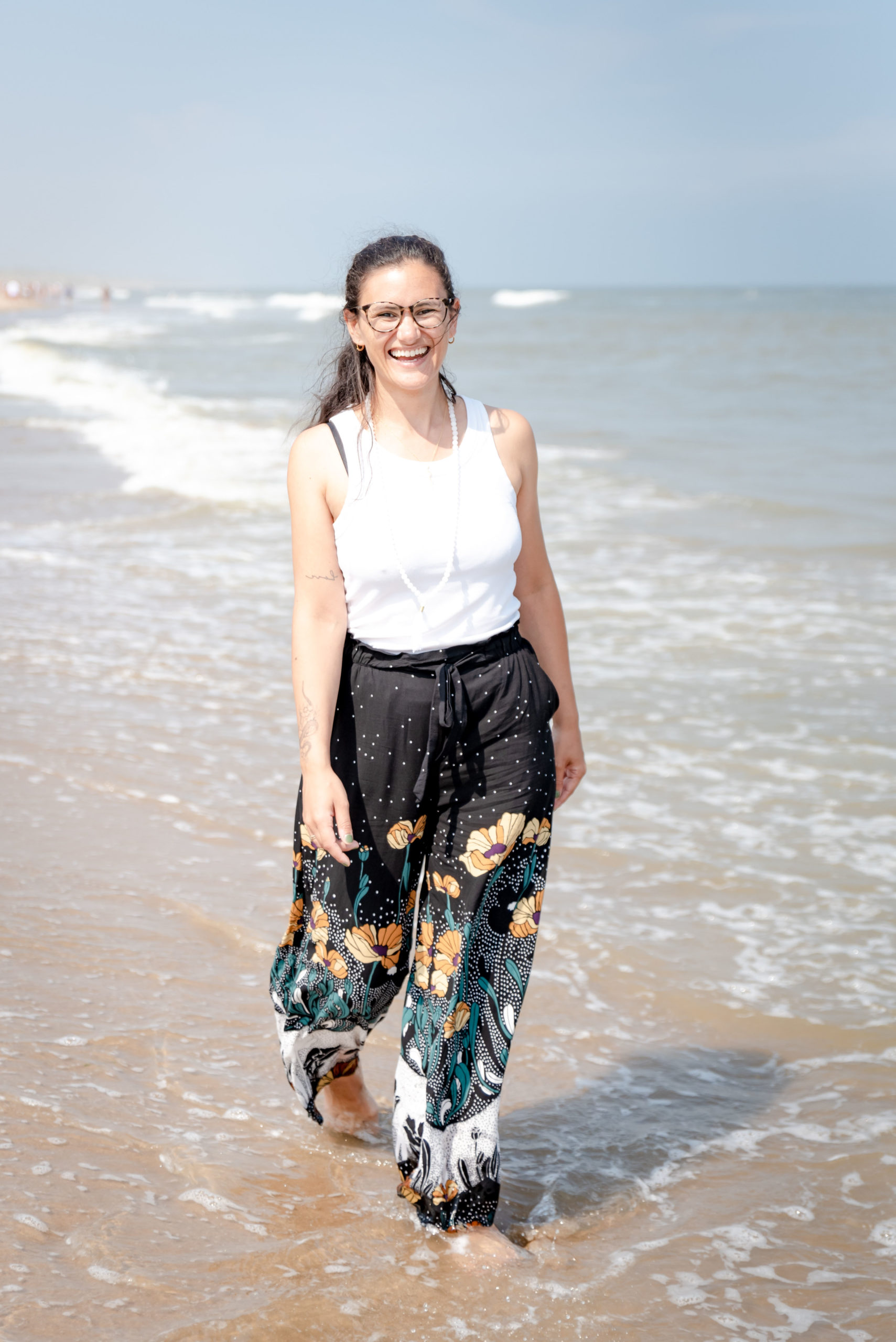 Hi, I'm Steffi and I will be your guide during this 6 week course. 
I have created this course because it's something that I could have used myself. Around 9 years ago I started to feel pain in my pelvis around the same time I got an IUD. It started with  pain in my lower back, pain with penetration and pain during orgasms. It really influenced all parts of my life and unfortunately my GP was not able to help me.
Walking around with the pain and tightness for a long time not doing anything about it only made it worse and worse. So I started to do my own research and ended up learning and working with amazing teachers and therapists like Annemarie Reilingh, Isa Herrera and Leslie Howard. When I started my advanced yoga teacher training I decided to research how yoga could help and this ended up in me specializing in the female pelvis. 
This course is all I have learned, tested and tried. I'm ready to share this knowledge with you, so you too can learn how to deal with this pain and discomfort and bring back space, flow and awareness in your pelvis.
 Each module we dive into a different theme with videos, meditations and workbooks about the theme plus every week there's a 60 minute Pelvic Yoga Class to help guide you through your pelvis.
You can go through the content at your own pace, you'll have access to the content for a full year. You'll have access to all the modules at once, but I advice you to start with module 1, then the 2nd module and so on until you reach the 6th module. Take about a week for each module.
It's a complete program combining movement (yoga), meditation, breath, body literacy and self massage to give you the best tools for you to find healing in body, mind and spirit. 
We will look at the body as a whole and not just your symptoms and create ways to change your life to live more from your pelvis and root. 
Space
The first step is getting to know the anatomy of your female body. Learning about the muscles, connective tissue, ligaments, organs and boney parts. Getting all the info on your pelvis.
Air
Deep belly breaths (diaphragmatic breathing or full body breathing) are a key in pelvic health. In this module we go deeper into the right way to breath and experience what breath can do for your pelvic floor.
Softness
Stress and trauma are being stored in the body, a lot of it in the pelvis (pelvic floor, hips, lower back). In this module we go deeper into what you can do to relax, release and let it go.
Touch
The next step is touching your body and learning how self massage can help bring you down into your root. How self massage can ease pain and create a better awareness in your pelvis and pelvic floor. Using vulva and vagina mapping, foam roller and balls to work with trigger points.
Compassion
Most women with a tight pelvic floor experience some kind of pain in their pelvis. This module goes deeper into this pain, the emotional part and how to deal with chronic pain.
Awakening
In the final module we work with different practices that help to awaken the pelvis even more. Yoga, movement, breath and visualisation. Learning to love you pelvis and womb space.
The online course is put so well together with a beautiful workbook, audio en video fragments. It gives you so much tools to relax and strengthen the pelvis. Every woman should follow this training!
I've been learning so much about my body by focusing more conscious attention to my pelvis. And btw the first zoom we had with the yoga class, damn, I never felt like this after yoga. As if I was in a awakened fog haha. I don't know how to describe it, but to give conscious attention to my body and pelvis in that way was really powerful and beneficial to me! So thank you!
I'm learning so much! By watching/reading the course book, I realize that having the scientific knowledge is super important to understand this topic! I really like the reaching platform you're using. So thank you for putting yourself out there and sharing what you've learned!
THIS ONLINE COURSE IS FOR YOU IF…
• You're ready to dive deep into your pelvis and work with your traumas, pain and stress
• You're ready to really do the work
• You experience painful menstruation or imbalances like PCOS or endometriosis
• You've been experiencing a sense of numbness, pain or disconnection from your pelvis
• You are dealing with pelvic floor muscle dysfunction
• You're ready to feel more alive, free and to awaken pleasure
• 6 x 1 hour Pelvic Yoga Classes
• 6 modules about the pelvic health & wellness including lectures, meditations, yoga classes (10 hours of material) and extensive workbook (+140 pages)
• 1 year access to all the content on the hub
Investment: €155

FREQUENTLY ASKED QUESTIONS
HOW MUCH TIME WOULD THIS ONLINE COURSE TAKE PER WEEK?
With the weekly live meetings and all the content on the hub you would need up about 3-4 hours per week to complete. 
WHAT HAPPENS IF I CANNOT COMPLETE THE ONLINE COURSE WITHIN 6 WEEKS?
When you enroll you'll have a full year (365 days) access to all the content. This will allow you to go through all the content on your own pace. I don't want you to feel you are behind. Although I do suggest to try to schedule in your pelvic yoga classes and do as much as you can of the modules within 1 week, this way you keep going and finish the course.
I DON'T HAVE ANY PELVIC ISSUES OR PAIN, CAN I STILL JOIN THIS COURSE?
Yes, the focus of this course is on relaxing, releasing and letting go and I believe that's something every woman could use. It is a course to help you bring closer to your pelvic space, helping you root and ground into your body. 
I HAVE A HYPOTONIC (TOO LOOSE) PELVIC FLOOR AND EXPERIENCE ORGAN PROLAPSE AND/OR STRESS INCONTINENCE, IS THIS COURSE FOR ME?
Yes and no. The focus of this course is more on an overly tight pelvic floor and we don't focus that much on strengthening the pelvic floor, although we do some work on stabilizing (and strengthening) the pelvis and core. This course will help you create a better awareness of your pelvis, but there won't be specific exercises for the hypotonic pelvic floor. If you do have prolapse and/or stress incontinence plus experience pain in your pelvis this will be a good course for you, since you first need to address the pain (bringing awareness in your pelvis, learning how to relax) before strengthening the pelvic muscles.
WHAT IS YOUR REFUND POLICY?
There are no refunds and all sales are final. I trust that you make a well-considered choice when you make a purchase.
I HAVE A QUESTION THAT ISN'T ADDRESSED 
You can reach me via email: hello@steffivonbrunner.com
disclaimer: if you have serious issues and/or pain in your pelvis, always see a doctor or physical therapist first