The past year I taught many online yoga classes. All these are now bundled together in my yoga & more library with 114 different videos and audios
Feel at home in your body
Let me help you create space and awareness in your body and feel grounded. Healing body, mind and spirit.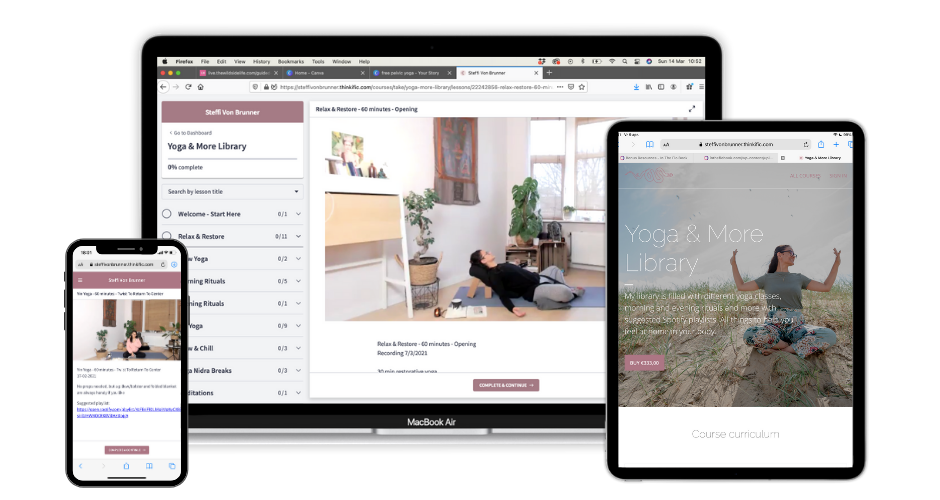 I teach different kinds of yoga styles, from restorative and yin to vinyasa and flow, so you will find all these different styles in the library. Most classes are 60 minutes, a few 90 minutes and a couple shorter classes and meditations. 
My classes have a clear structure and a lot of attention to alignment. My style is fluid and ever evolving. Most important in my yoga classes is that you learn to listen to your own body. You learn to adjust the posture to your body and not the other way around. This is one of the greatest lessons that yoga has given me and I am happy to pass it on to you.
 Relax & Restore – a combination of restorative yoga with yoga nidra – 18 videos
Flow Yoga – vinyasa styled classes, dynamic and active – 6 videos
Morning Rituals – a combination of morning flows and breathwork classes – 8 videos
Evening Rituals – meditations before bedtime – 2 videos
Yin Yoga – slow paced with longer holds – 41 videos
Flow & Chill – a combination of flow yoga with yin yoga – 4 videos
Yoga Nidra Breaks – a deep meditation – 3 videos/2 audios
Meditations – guided relaxing meditations – 4 audios
Flow & Restore – a combination of flow yoga and yoga nidra – 21 videos
Pelvic Yoga – yoga for the pelvis and pelvic floor – 5 videos
There are two option to gain access to this extended library:
3 month access for €35
12 month access for €125